November 10, 2014
In Conversation: ELLIPHANT
It has been just over a year since Ellinor Olovsdotter, the well-travelled restless spirit fans know as Elliphant, released her first album "A Good Idea" in Sweden.  Her synth pop melodies and effortless say-what-I-want-dow-what-I-want rhymes were met with rave reviews.Fast forward to October 2014 and Elliphant has released "One More EP", her 2nd follow-up to " A Good Idea", and embarked on a North American tour with Charlie XCX. After connecting for a photoshoot in Toronto, we caught up once again via phone to talk touring, "One More EP", collaborations with MØ and Mad Decent crew, depression, and our similarities to animals. Elliphant speaks passionately, her English laced with a Swedish accent and tinged with the slight rasp of a smoker on tour.
(Images Above)
  L
  Jacket and shoes, 
Remix 
                                    Sports bra and denim, Vintage
                               R  Sports bra and denim, Vintage
                                    Necklace, chokers and bracelet, 
Dolorous 
ARKAN ZAKHAROV How was the rest of the tour? Almost caught you in SF, I didn't end up making it to that show.
ELLINOR OLOVSDOTTER Yeah it was good. It was so much fun. The shows and the whole experience were awesome.
AZ How was it being on the road with Charlie XCX and her crew?
EO I'm really happy about my own crew that I created. I come from a non-music world originally, so it was really hard for me to create a stable and balanced crew. So big up to my boys, they're amazing. For me that was a big part of the tour – this was the first big tour that I am doing so…
AZ Does a good crew go a long way for you?
EO Yea, my crew is from Sweden. I have my tour manager and my DJ and we had an amazing driver who was American. He was a vegan and he knew every place we could eat. He brought us to some cool punk places – he was a punk tour manager previously for 10 years so he got us to amazing punk shows. We were a little disconnected with the rest of the tour though; I mean Charlie is so…when you have a tour like that you're so busy. You know, she came in and she did her sound check and she had to go do interviews and all. It's a lot of work, but the actual experience of performing on this tour has ben amazing. It was very loving. Lots of kids like 17 year olds, 18 year olds happy kids.
      Denim, Vintage
R  Sports bra and denim, Vintage
AZ A rowdy bunch?
EO Yeah. All dressed like Spice Girls. It was great because I usually have a bit of an older audience. It was really cool to finally present my project to the kids. Usually I'm playing clubs and late shows where you have to be 21 or older so it was cool to invite and connect to younger fans, even if it was a short set.
AZ What was your favourite thing about Canada?
EO I've been to Canada before. I have a great time every time I'm there. First of all, people have a really chill vibe and you always get really well taken care of. I haven't really had much of a chance to explore Canada even though I've been like 6 times now. I just see the venue and local restaurants next to it.
AZ "One More EP" just came out this October, congrats on this release. What's changed for you since the last EP? This one seems a lot more subdued than "Look Like You Love It".
EO Nothing has changed. When I did the last EP I've been here a while. I've been working on music for like 2 years by then. We recorded a lot of songs and I released it with Mad Decent crew because I wanted to include those guys, like Diplo, on that release. It seemed it would have been good first worldwide release that showed who I am to the club scene, because that's really where I belong and really where I know something. When we decided to release One More EP those songs came from the same sessions, it was just new selections. So its not like I did two different periods, it was just a selection from 2 years of my life and we did so many, many, many songs. If you tie One More Ep with Look Like You Love It Ep you kind of get the balance of how the next Elliphant album will feel. Maybe there is a lack of something drier, something more punk, you know, like from my last album A Good Idea. I have a song called Boom Your Head Up that's more punky, more like Rage Against The Machine. I have not done anything like that on these EP's of course so that's the only place where I think I would explore more. So if you put these EP's together you can hear how the album is going to be – one hippy Elli, Hip-Hop Elli, R&B Elli … I thought to let people in on the more sensitive side of me …
AZ Cool.
EO I think people should look at them as one album as opposed to two separate releases.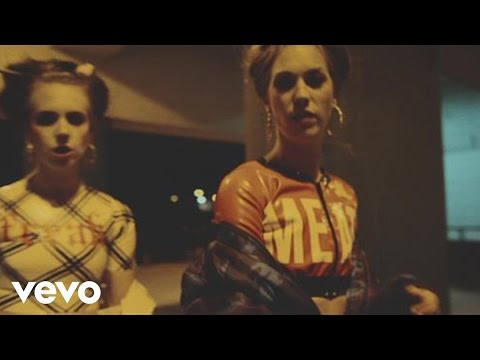 AZ The video for the song "One More" with MØ looks like it was a lot of fun to create. How did it come about?
EO Yeah, when I did the song I knew I was going to work with MØ. I knew her for a while, we're really good friends. I really wanted her for the project, especially when I knew it was a friendship song like that. It's one of my most favourite songs because it really turned out exactly how I wanted it to be. It's very comfortable for me. I never had to make any changes in my plan. MØ was really professional, she recorded it instantly – I sent her the song, she sang it and then I let (producer) Joel Little work on the balance of it. I knew I wanted to do a video in the back of a cab in London. I wanted it to be Joel Little driving it but he couldn't make it. I wanted it to be just me and MØ  - not pretending to be drunk but actually do it for real (laughs), I got really fucking shitfaced. I had a reference from a Cali band called Girls. They had a video for their song "Vomit" and that was a bit of the inspiration for footage that I wanted to bring in.
 "…this whole thing about putting people in a box is what I'm working against."
AZ …looks like it was fun…and with a little bit of peeing in the background…
EO Yeah, yeah, yeah! Of course! I wanted to do that 100%. I knew everybody was going to talk about the kissing and pissing.
AZ Well you did save the piss as promised in the behind-the-scenes of the video. Was that strictly for shock?
EO Yeah, I knew people were going to get stuck on the peeing. We were going to do more of that kind of stuff, but I just said "fuck it lets keep it clean" and actually …like I never kissed MØ, I just bit her lip. My point was that I didn't kiss her, so I was a little bit annoyed that everybody thinks that we made out in the video. I'm not standing there pretending to be a lesbo or anything. I don't even believe in that shit…human is human. We change every day. If I want to fuck a girl, I fuck a girl. If I want to fuck an old man, I fuck an old man. I don't have any boundaries and I would never call myself anything. Even if I had a girlfriend I would never call myself gay, I'm still just Elli and I think this whole thing about putting people in a box is what I'm working against.
AZ Would you say you are working against the social construct as a whole?
EO Yeah, it's constant. Like if I'm a Chinese person I don't have to write songs like a Chinese person, I don't need to tell people I'm a Chinese person…you know? If I have diabetes, I don't have to tell people I have diabetes …whatever it is. You don't have to put yourself somewhere. I'm really frustrated when every body's asks "Are you gay?" because of this video. It really makes me frustrated because yeah maybe I am, I don't know. I fuck around, I do shit but I would never call myself anything. Just being close to that and being close for the first time in my life to the fact that people think that way about me and feel like you have to tell people that you're this or you're that it just gets me so frustrated.
AZ Absolutely, I get that.
EO It's a reality check. You know I grew up with a lot of friends in the gay community and my godfather was gay. It took me so long to say the word 'gay' because I don't even understand…we are all just human. 'Gay' is just human like the rest of us. Why do we have to define it or put a thing over it? With the video I just wanted to make a really good shock and I thought it would be beautiful. I always wanted to bite her lip, so I did. It doesn't make me a representative for women, or sexual orientation, or anything …I just want to be seen as a person who makes mistakes and also does good, you know what I mean? Like, whatever.
AZ Do you feel any responsibility as an artist and especially as one that's becoming more popular in the mainstream spotlight to address certain topics close to your heart, be it about gender stereotypes or sexuality or even something broader?
EO …its hard to talk about it because I like to talk, but I don't really know, or have so much information, about politics and things. I really need to stay out of it because I'll just dig myself a hole and jump into it, you know what I mean, so I won't get into that….but I will talk about my diagnosis and the fact that we live in a world where they take away personality. From a medical point of view we aren't actually trying to find what's wrong in our hearts and I am a big warrior against the medical industry's fucking terror that is going on. You know, how they give Ritalin and Amphetamines to kids and how they drug people with anti-depressants but don't actually take care of them properly. I really understand the diagnosis side of things; the diagnosis process itself is good. Of course people are different and some people need more help with some things, so drugs are relevant for those people. I think that's fine. I know that if you have been through something terrible and you got into a depression, or if you have been doing drugs for a long time and you need to get out of that then maybe you need to build something up that will help you get out of that, but right now so many people take anti-depressants because they're living a life that they don't love. They're feeling like shit because they're doing things wrong, and the pills make people do things wrong 'till they are in a very, very dark place that is really hard to come back from and a doctor will not help them get out of that. One day they'll just take the pills away and that's it. It's a very terrible world when it comes to medical things like that. That's what I can talk about with you.
 "Everybody does need a pack, and a place in a pack, and the right place in the pack that is good for them."
AZ Do you think better and earnest communication in general is the way to find the healing that we socially are in need of?
EO Some people should really talk. That's what I mean, I don't think there's any specific thing that we can do that's a cure for everybody, but I do think everybody is different and everybody needs different help. Some people really need to just talk. They just need to open up and talk. People like myself, because I am a very open person and I don't have a problem talking about anything, I need to do the opposite – shut up and fucking understand what's really my problem…because sometimes I talk so much about my shit that I actually start getting addicted to my own words and to my own depression. I see that a lot with my friends who go to like Alcoholics Anonymous, people who want to stop partying or doing drugs, they start going to talk groups with other addicts. The only thing they do after that is talk about being a drug addict and to me that's not a life either. I think you just need to shut up and don't make it an emphasis.
AZ Well don't you think that that's something coming out because people want to belong and they find a sense of strength and belonging when they are within these groups?
EO Yeah I think so. It's true. Everybody does need a pack, and a place in a pack, and the right place in the pack that is good for them. I look a lot to animals. I don't think our nature is much different from any other mammals on this planet, you know. We need our place in a group, we need our mission in life… everybody needs that, but what I mean is we also shouldn't just talk so much. We should actively work shit out.
AZ Well since you brought up animals, can you tell me about Save the Grey?
EO Save The Grey… it started out as a philosophy for myself. I just started thinking about all these things we're talking about now, like how it's often the people in our society who don't really get in line and don't really fit in society's plan who are the people that fall off since there really is no place for these people. I call them the "grey-zone" people, and in that "grey-zone" the most change and most amazing art comes from. The "grey-zone"… It's not until you're in a very uncomfortable grey area that you really make changes. Animals though have always been a huge inspiration. I know humans, my biology just knows this shit, you know, but I'm very respectful and impressed by the animals because I don't know anything about that. Since I was a kid I loved elephants and lions and sharks and it just hit me one day that all of them are grey. They're misunderstood. Like the wolves – there's a big conversation around the wolves right now in Europe. I just want to stand up for the grey animals and it just felt like a very concrete and good project to be involved in, to tie in with Elliphant and to give something back. It's always been the nature that's been my biggest inspiration and my biggest push to continue whatever I did because I really believe that the best thing you can do is to actively help and do something for the nature.
AZ What's next for you now that you're done touring? Are you working on the album already?
EO There is a lot of things happening. I'm here in LA and all of my producers are here. I'm just going to start doing session weeks, get this album ready and plan a new tour. Not sure where exactly it will happen… I'm going to Miami to do this boat party with Mad Decent crew in a week or something. November is still going to be pretty chill, but I think December is when I'll start working hardcore on the new stuff and recording again, I look forward to that so much . It's been a while now.
Photographed by  Arkan Zakharov
Styled by Elaine Regio
Makeup/Hair Brandi Boulet
Words and Interview by Arkan Zakharov